A flash of light and a clap of thunder. "You'll hear 'em before you see 'em," remembering what the old rancher said to you. The ground starts to shake, distant huffs and puffs fill the air, and then hundreds of longhorns spill over the crest of the hill in front of you. Watch out, it's Thunder Stampede! — the most western game brought to you by the folks at IGT.
Laying Down the Details
Thunder Stampede is a five-reel slot game with 10 paylines. That gives you a 1 in 2.3912 chance of winning! The minimum total bet is $.50, the maximum bet per line is $.40, and the maximum total bet is $4. The maximum win per game is $1,196. Symbols in Thunder Stampede are letters with a mix of typical western things — a J, Q, K, A, a cowboy on a horse, a cowgirl, a gold buckle, a campfire, a "Longhorn Wild", and a cow laying in some grass. All pays must be on an adjacent active payline and can be read from left to right or right to left. Only the highest of a kind will be paid, and line pays are multiplied by the number of credits bet on the payline.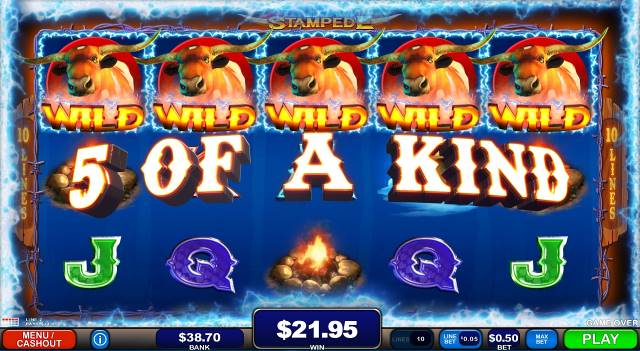 Now let's tie a lasso 'round these here bonus features. Yeehaw!
Stampede
If you roll a cowboy symbol while there are any longhorn wild symbols on the reels, the longhorns will all stampede to the left! And in their wake, they'll leave wild symbols that replace the previous symbol in that spot. That's a lot of chances to win it big so look for those cowboys!
Residual Credit Bonus
As soon as you go under the minimum bet amount, Thunder Stampede will give you a chance to spin one more time in exchange for your remaining credits. It's sort of like a discount spin to put you back in the game!
Roaming Wild Bonus
When longhorn wild symbols land on reels, they tend to migrate to adjacent reels and walk around turning regular symbols into other longhorn wild symbols. As soon as the longhorn symbol hits another longhorn wild symbol, it will turn around. This process will only stop when a cowboy is spun. The cowboy will then wrangle up all the wild symbols, giving you a nice hefty pay!
Fever Games
This bonus is triggered when three, four or five gold buckle symbols appear anywhere on any reels. If you spin three, that's 10 Fever Games. If you spin four, that's 15. If you spin five gold buckle symbols, you gain 50 Fever Spins! Dang!
Thunder Stampede puts you on a ranch in the Wild West, with cowboys riding horses, longhorns and acres upon acres of land. The world is your oyster!