Here at AE Player, we love a good party. The only thing better than a party? A casino-themed party! Roll out the red carpet and get your playing cards ready – we're about to show you everything you need to throw the perfect casino-themed party.
Cashout Voucher Themed Invitations
Have a lot of slot machine fans coming to your party? Try sending them a custom invitation in the mail in the shape of a slot machine cashout voucher! This will be a great start to your party and show your guests that you're serious about hosting a truly casino-themed party! Not crafty enough to DIY a cashout voucher? Go simple – buy a deck of cards. Buy a deck of cards and write the information on them in permanent marker, put them in an envelope, and send them out!
Slot Machine Themed Cake
Every party – no matter the theme – needs a good cake. An intricately designed cake can be a real talking point at the party. A truly impressive slot machine cake will take a moderate amount of skill – both baking skill and artistry – but it's not impossible for an amateur to achieve the same effect. Just be sure to take your time and be ready to improvise if your cake falls apart! Check out this impressive slot machine cake from Love & Olive Oil!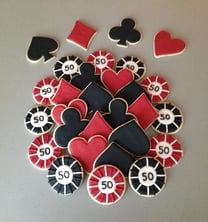 Poker Themed Desserts
Not an expert cake baker? No problem! Not all desserts require so much skill. Keep the theme going with casino themed cookies and cupcakes! You can take regular, store-bought cupcakes and dress them up with a poker chip stuck in the frosting! Or if you want something a little more hands-on, try making some poker-themed sugar cookies! Cut out card suit shapes into the cookies and frost them in red and black. Or go simpler and decorate round cookies into poker chips with some gel icing!
Dice Themed Party Favors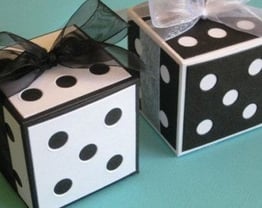 Everybody likes a little goody bag at the end of a party, a good party favor can really make or break a party! Create easy DIY dice party favors by folding up a paper or card stock dice block. Fill them with candy or one of your desserts from above! These little dice will take your party from average to mind-blowing!
Are you planning a casino-themed party this holiday season? Let us know how it goes in the comments below!