Welcome to the Han Dynasty — dragons, pandas, and gold! This is your ticket to ancient riches and an entire world to explore. A splendid adventure brought to you by the folks at Aristocrat, this is Dancing Foo!
Checking Out The Details
Dancing Foo is a five-reel slot game. With a minimum bet of 40 credits and a maximum bet of $4.00, that gives you varying chances of winning. Playing three gold stacks equals a 1 in 3.36 chance of winning, playing four gold stacks equals a 1 in 3.51 chance of winning, and playing five gold stacks equals a 1 in 3.38 chance of winning! The maximum jackpot is $50,000!
Symbols in Dancing Foo are letters, numbers, objects, and traditional Chinese mythical creatures — J, Q, K, A, 10, 9, dragon, phoenix, drums, mandarin oranges, gold coins, ingots, fireworks, gong, gold stack, Red Emperor, Red/Gold Emperor, and Gold Emperor. The jackpot symbols are "Grand" Dragon, "Major" Phoenix, "Minor" Twin Jade Lions, and a "Mini" Panda! The Red Emperor and Red/Gold Emperor are the WILDs, while the silver coin triggers the Fever Games bonus.
All pays must be on an adjacent active payline and can be read from left to right or right to left. Only the highest of a kind will be paid, and line pays are multiplied by the number of credits bet on the payline.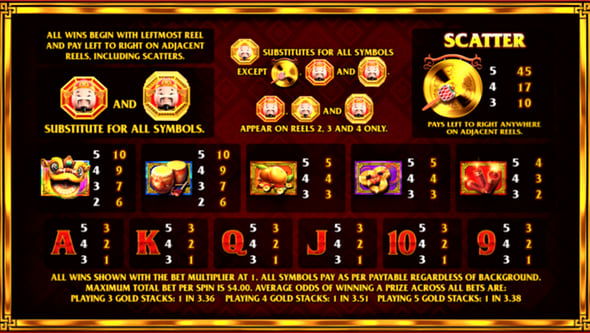 Now it's time to get into the Bonus Features!
Booster Spins
This bonus is triggered when three, four or five gong symbols appear anywhere on any reels. Booster Spins are extra spins without any cost! If you spin three, that's eight Booster Spins. If you spin four, that's 12. If you spin five gong symbols, you gain 20 Booster Spins! Holy cow!
Gold Stacks
When gold stacks are available, the empty gold space will roll all letter and number symbols. When a gold symbol appears, it will have a picture symbol on top of it. This symbol will be the one you'll try to match to all the other gold symbols that appear on the other reels. When all slots are filled, a bonus amount will appear according to the bet you placed on the initial spin.
Wild Reels
The regular WILD symbol is the Red Emperor. However, if you roll a few of these Red Emperor symbols and a Red/Gold Emperor symbol shows up, this will trigger the WILD Reels Bonus feature! All regular Red Emperor symbols will turn into Red/Gold Emperor symbols, and when all the Red Emperor symbols have transformed, then the Red/Gold Emperor symbols will turn into Gold Emperor symbols! This feature allows any WILD symbol to remain on the board until all Emperor symbols are the gold variant. Those are like free spots!
Jackpot Bonus
Whenever a Emperor variant symbol shows up on a reel, there's a chance this will trigger the Jackpot Feature! When it's triggered, 12 gold bullion symbols will appear. Tap any of the 12 to reveal one of the bonus symbols mentioned earlier!
"Mini" Panda: A mini boost of 250 or 500 credits will be added to the Mini Jackpot!
"Minor" Twin Jade Dragons: A minor boost of 500 or 1,000 credits will be added to the Minor Jackpot!
"Major" Phoenix: A major boost of 5,000 or 10,000 credits will be added to the Major Jackpot!
"Grand" Dragon: You win the entire Grand Jackpot!
Dancing Foo brings you back to Ancient China — a place full of mystery, mythical creatures, and gold! With these massive jackpots, it's no wonder this is a fan favorite!