The Digital Team at Accel is always perusing location's social media and websites because that's what you do when you're passionate about the internet. That's when we came across one of Accel's newer locations, Starved Rock Motor Inn/Roamers in Streator, Illinois. We were blown away by their content and knew we had to feature them on the blog for other businesses looking for #inspo (and if you want us to take a look at your digital presence, submit here for a FREE assessment!).
Check out what the owners of Starved Rock Motor Inn/Roamers had to say about their establishment, video slots and marketing strategy: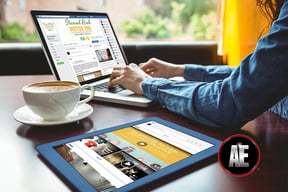 In 2016, Kevin Shah and his wife, Reshma, completely renovated the Town & Country Inn in Streator, IL. Today, Starved Rock Motor Inn features brand new rooms with modern comforts and a retro style. In fact, it's become their tagline: "Modern Comfort - Retro Style."
The hotel is located 25 minutes from the entrance of Starved Rock State Park. There is parking for large trucks and trailers, free hot breakfast, as well as meeting/reunion/party space (over 1400 sq. ft.). In 2019, there will be a brand new and affordable wedding reception venue and courtyard.
The Roamers Lounge is where they added Accel video gaming terminals (VGTs) in January 2018. The Lounge is a large retro, upscale venue with comfy couch areas, a billiard table, an electronic darts bar and an open space feeling.
To help market their video gaming, they rely on a dedicated Social Media Manager. Rhonda Eilts, who owns Biz Buzz, works every day of the week posting and interacting with prospective and current customers on Facebook and Instagram. Rhonda created an Instagram account to extend the reach of their social media efforts, sticking with a retro theme on this platform to remain consistent with their image and branding. Biz Buzz creates the content and photos; and Kevin shoots photos from time to time.
The Shahs want to get to the point of bringing in revenues that the top gaming establishments in Streator are achieving. They recognize the importance of customers being able to easily find the Roamers Lounge and the VGTs within the hotel. They really feel the Lounge is the most relaxing and unique venue in town!
We have no doubt that Roamers will start driving more traffic to their video gaming location with their incredible digital marketing efforts. In an effort to help locations drive foot traffic to their establishments and their VGTs, we publish content each week on a variety of topics, including social media marketing, so be sure to subscribe to our blog!