Welcome to a temple of dreams — a treasure trove of gold, coins, and rare artifacts! Join us on our journey through a fan-favorite game brought to you by the folks at Aristocrat — this is Prosperity Cats!
Checking Out The Details
Prosperity Cats is a five-reel slot game. With a minimum bet of 28 credits and a maximum bet of $3.80, this gives you varying chances of winning. Playing three gold stacks equals a 1 in 3.23 chance of winning, playing four gold stacks equals a 1 in 3.07 chance of winning, and playing five gold stacks equals a 1 in 3.37 chance of winning! Symbols in Prosperity Cats are letters, numbers, objects, and traditional Chinese mythical creatures — J, Q, K, A, 10, 9, cat, ring, coins, lanterns, fan, and ying-yang, and the red token symbol is the WILD and Scatter. The jackpot symbols are "Grand" Dragon, "Major" Phoenix, "Minor" Twin Jade Lions, and a "Mini" Twin Koi! All pays must be on an adjacent active payline and can be read from left to right or right to left. Only the highest of a kind will be paid, and line pays are multiplied by the number of credits bet on the payline.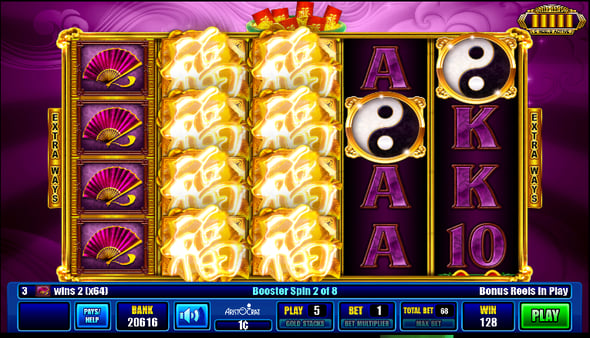 Now let's see what these bonus features are all about!
Booster Spins
This bonus is triggered when three, four or five ying-yang symbols appear anywhere on any reels. Booster Spins are extra spins without any cost! If you spin three ying-yang symbols, that's eight Booster Spins. If you spin four, that's 12. If you spin five, you gain 20 Booster Spins! Talk about prosperous!
Gold Stacks
When gold stacks are available, the empty gold ingot space will spin. When a gold symbol appears, it will have a picture symbol (one of the object symbols) on top of it. This symbol will be the one you'll try to match to all the other gold symbols that appear on the other reels. When all slots are filled, a bonus amount will appear according to the bet you placed on the initial spin.
Jackpot Bonus
Whenever a red token variant symbol shows up on a reel, there's a chance this will trigger the Jackpot Feature! When it's triggered, 12 coin purse symbols will appear. Tap any of the 12 to reveal one of the bonus symbols mentioned earlier and match it with the bonus on the upper screen!
Prosperity Cats brings you to a luck-filled paradise. With gold stacks covering every room and statues of Jade littering the floor, there's got to be magic in the air with Aristocrat's Prosperity Cats!