A wonderfully classic game! Made by the folks at Aristocrat, this is Flamin' Hits!
Igniting The Details
Flamin' Hits is a five-reel slot game with 30 paylines! With a minimum bet of 40 credits and a maximum bet of $4.00, this makes your odds of winning 1 in 1.67. Flamin' Hits has a myriad of symbols — Single 7, Double 7, Triple 7, Bar, Double Bar, bell, cherry, WILD, diamond, and Booster Spins. There are mixed symbols as well! If a Triple 7, Double 7, and a Single 7 line up — even if they're not the same symbol — you still win! Same applies to the Double Bar and Bar symbols. All pays must be on an adjacent active payline and can be read from left to right or right to left. Only the highest of a kind will be paid, and line pays are multiplied by the number of credits bet on the payline.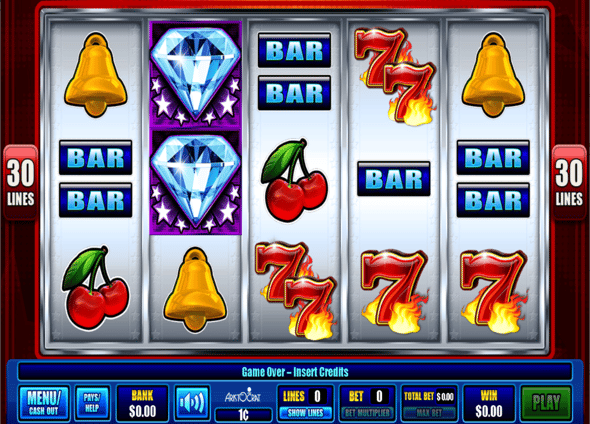 Let's burn through these Bonus Features!
Booster Spins
This bonus is triggered when three Booster Spins symbols appear anywhere on any reels. Booster Spins are extra spins without any cost! When you spin three, tap one of the symbols to be rewarded 5, 10, 15, or 25 bonus spins PLUS a multiplier of X2, X3, or X5! And during Booster Spins, you can win more spins just by rolling three more Booster Spins symbols! The amount you win each consecutive time will be the same amount you first rolled. Awesome!
Diamond Bonus
Diamond symbols are bet multipliers! Rolling diamonds anywhere on the screen will provide you with a bet multiplier as long as there are three or more.
3 Diamonds: 1X Total Bet
4 Diamonds: 3X Total Bet
5 Diamonds: 15X Total Bet
6 Diamonds: 50X Total Bet
7 Diamonds: 100X Total Bet
8 Diamonds: 200X Total Bet
9 Diamonds: 299X Total Bet
Flamin' Hits is a classic game with some pretty flamin' stakes. Roll some hot bonuses today with Flamin' Hits!