Welcome to a magical forest where luck is bountiful, and the prizes are even greater! Brought to you by the folks at Novomatic — this is Charming Lady!
The Details
Charming Lady is a five-reel slot game with 10 paylines. The maximum win per game is $1,199! Symbols in Charming Lady are letters, numbers, lucky charms, and other magical objects — J, Q, K, A, 9, 10, a gold coin, ladybug, horseshoe, rabbit's foot charm, blonde lady (which is the WILD), and four-leaf clover. The scatter symbols are two hands holding a magic orb, which also triggers the Fever Games bonus. All pays must be on an adjacent active payline and can be read from left to right or right to left. Only the highest of a kind will be paid, and line pays are multiplied by the number of credits bet on the payline.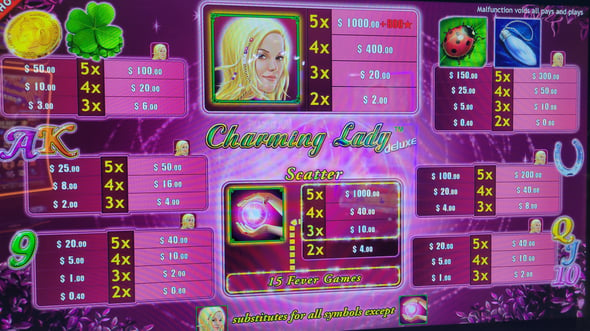 Time to get charmed by these Bonus Features!
Fever Games
This bonus is triggered when two or more magic orb symbols appear anywhere on any reels. Fever Games allow every WILD symbol (blonde woman) to stick around on the reels they land on until all Fever Games finish, giving you free winning spots every spin. That's a lot of chances to win!
Action Spins
The more you spin, the more Action Stars you gain. These Action Stars fill up the Action Star Meter. If you gain 10 Action Stars, then you get to spin the Action Game Wheel! The Action Game Wheel can give you one of three possible prizes: cash, more Action Stars, or a blank space on your reels!
Residual Credit Bonus
As soon as you go under the minimum bet amount, Charming Lady will give you a chance to spin one more time in exchange for your remaining credits in a Residual Credit Game. It's sort of a discount spin to put you back in the game.
Charming Lady gives you all the luck you need for a chance to win it big! The four-leaf clover, rabbit's foot, and horseshoe… you should definitely try your luck today!