Welcome to the wild, Wild West! Mountains line the horizon; tumbleweed bounds across open plains. This is a place where nature meets history, where cowboys once ruled, and now only wild animals remain. This is the game worthy of every saloon in the West! Made by the folks at Aristocrat, it's Buffalo Gold!
Stampeding Through The Details
Buffalo Gold is a five-reel slot game. With a 1 in 3.68 chance of winning a prize, those are some pretty good odds! The maximum bet per spin is $3.00. Symbols in Buffalo Gold are letters with a mix of western mountain animals and things — J, Q, K, A, 10, 9, buffalo, gold buffalo, gold dollar, eagle, mountain lion, wolf, bellowing elk, and western sunrise. The western sunrise symbol is WILD, and the gold dollar symbol triggers a special bonus. All pays must be on an adjacent active payline and can be read from left to right or right to left. Only the highest of a kind will be paid, and line pays are multiplied by the number of credits bet on the payline.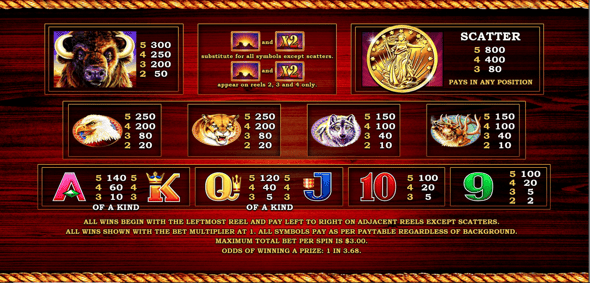 Now let's give a big ol' Western "hello" to these bonus features!
Booster Spins
This bonus is triggered when three, four or five gold dollar symbols appear anywhere on any reels. Booster Spins are extra spins without any cost! If you spin three, that's eight Booster Spins. If you spin four, that's 15. If you spin five gold dollar symbols, you gain 20 Booster Spins! Yeehaw!
Another Booster Spins feature is the gold buffalo! A gold buffalo has a chance to turn all other animal symbols into buffalo symbols! Collecting four or more changes all eagle symbols into buffalo, collecting seven or more changes all mountain lion symbols into buffalo, collecting 13 or more changes all wolf symbols into buffalo, and if you collect 15 gold buffalos, all bellowing elk symbols will change to buffalos. Collecting all 15 gold buffalos will award you with an additional spin!
Buffalo Gold places you out in the wild — and not just any wild — the wild, Wild West! Put on your boots and grab a saddle. It's time to lasso up some prizes!